Congratulations G F Tomlinson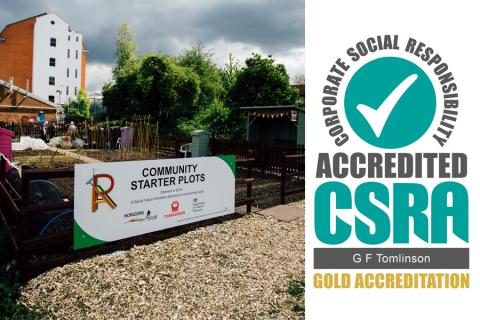 The phenomenal contribution that G F Tomlinson have made to our allotment community has contributed to them being recognised as a leader in Corporate Social Responsibility (CSR).
CSR Accreditation is a nationally recognised body that awards Bronze, Silver and Gold accreditations to businesses that can demonstrate a positive impact on society through areas such as social, environmental, ethical, human rights and consumer concerns.

Recognised as being on the highest end of the scale, G F Tomlinson was awarded the Gold standard in the CSR Accreditation's judging criteria, and since 2013, G F Tomlinson has followed a refined social value policy, ensuring its activities are in accordance with the Social Value Act 2012.
For more details see http://www.gftomlinson.co.uk/g-f-tomlinson-secures-gold-csr-accreditation/.
Congratulations G F Tomlinson, so very well deserved.