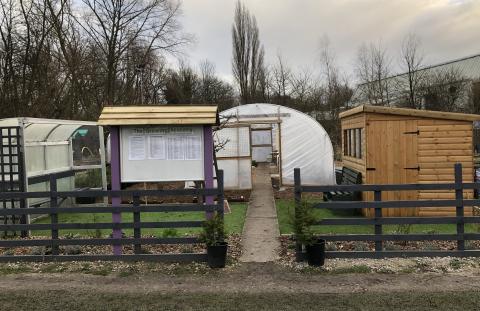 What is the Growing Academy?
The aim of the Academy is to teach and support anyone wanting to learn about growing fruit, vegetables and traditional allotment flowers. We welcome beginners, as well as more experienced gardeners, in sharing the process from sowing seed right the way through to harvest. We will also advise and guide on all things allotment and growing related, as well as providing guest speakers and classes for local community groups.
How will it benefit our allotment site?
With the right knowledge anyone can be a productive grower, be that at home on the garden or on an allotment. Having a Growing Academy will offer our members the best possible opportunity of success; this should improve plot retention rates as well as an in increase personal satisfaction levels. Having a plot should not be overwhelming or a chore!
Whilst we learn in the Academy, we will be producing numerous plants which will be sold on through the ARDAA shop to raise funds for our site. Plants will be available to purchase as and when they are ready, so they will be in optimum planting condition! There will be no 'Plant Sale' as such, instead keep an eye on the shop or place an order with the academy volunteers for plants. Please encourage your friends, family and neighbours to come and buy from us!
Finally, the Academy is groundbreaking stuff. To the best of our knowledge no other site in the country has anything like this! Alongside other recent improvements to our site, this work will help attract people to the waiting list of the site and as you know, having a healthy waiting list is good for any site.
The Academy is a mark of how forward thinking and community focused our site is and continues to attract funding and engagement in local partnership working.
Who can attend?
Anyone who is a Member of Ashbourne Road District Allotment Association can attend The Growing Academy. You do not need to be a plot holder to be a Member of the Association.
If you want to learn how to grow, we can teach you! You can attend every class or select specific areas you'd like to join in with. The classes will be relaxed and informal so a great opportunity to meet and get to make new friends and get to know more people in the growing community.
How much will it cost?
Being a student of the Academy is free - but in return, we will ask for some of your time. The tutors and guest speakers will all be volunteers so all we ask is that you continue to support our allotment community by giving volunteer hours. A site the size of ours needs many hands so please take a look at our guide to 'volunteer roles' where we are positive you will find is something to suit your needs.
For further information
Speak to either Elaine (Plot 35) or Julia (Plot 33)

Email: academy@araa.org.uk

Call on 01332 485 018 option 6

Or leave a message in the postbox on the side of the Mundy Community Room