Hi everyone,
May I take this opportunity to wish you all a Happy New Year and hope you all had a great festival together with your loved ones.
I'm sure like me you are all keen and eager to set to and get ready for a bumper year of fresh fruit and vegetables but I guess only the mildest days might draw some of the members out into their plots this time of year as one tends to sit in a cosy room watching the weather roll by.
However, this time in your warm environs may not be lost on your hobby as one can order one's seeds. This might not be necessary for some as all the allotment Kingseeds catalogue orders have been sent out and received, but none the less, it might be an ideal time to review what you have ordered to see if you have missed anything. For example, what about buying your shallots and onions sets ready for planting in February and March? If you have a heated propagator it's not too early to start some of your seeds off in the propagator or the window sill.
To give leeks the longest possible growing season, sow seeds in modules filled with fresh potting compost and start them off at a temperature of at least 10 °C.
If you have been able to source your early seed potatoes you can now lay them out to chit in a cool and light place. Early cropping peas can be sown in pots, guttering or modules as long as they are kept indoors until you can harden them off outside.
However, those members that are more adventurous with outdoor activities may wish to undertake the task of checking for damage on your plot due to bad weather and conveniently I would like to highlight Rule 9 of the Tenancy Agreement: " Members, even not on site, have a duty of care to everyone, including visitors, trespassers and themselves and must comply with the Associations Health & Safety Policy", I could go on preaching chapter and verse on this but I will let you revise these rules on your own. However, it's important to say that any items that can become detached from a structure or indeed falling down must be secured.
Harvesting winter hardy vegetable is still not too late if you're lucky enough to have some on your plot. Throughout the coldest months make sure you protect the heads of your cauliflowers.
You can still prune apples, pear trees, gooseberry, currant and vines and plant new Rhubarb sets or divide old crowns. However, as you know our plots are subject to flooding so bear that in mind.
Having carried out a plot inspection in December I notice that some trees in our plots are getting too high and I take this opportunity to highlight Rule 8.1 of the Tenancy Agreement. "Members must not, without written consent of the Committee, cut or prune any tree on an external boundary, or outside their own plot. Members must not plant any tree other than a fruit tree and will contain the tree(s) within 3 metres (10Ft) in height. Self-seeding trees must be removed by the Tenant" So let's set too and take this last opportunity to prune the trees for the coming season before its too late.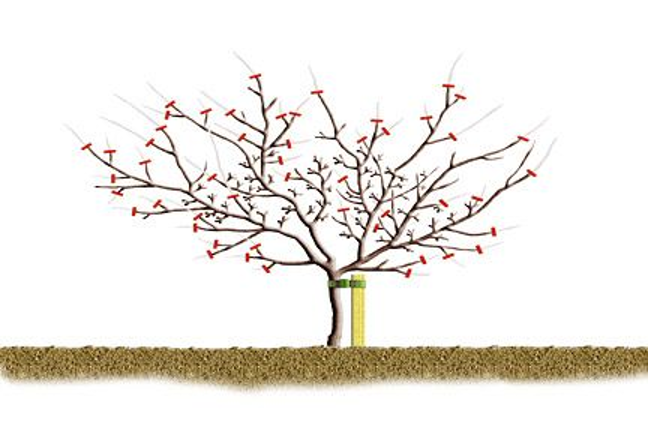 If the ground is not frozen you can plant out broad beans but be wary of those rats, they will devour them without a thought to your hard work! You will know from the workshop undertaken by Julia that turning one's compost heap regularly will assist in reducing the vermin on site.
It's now too late to do any digging because as you all know our site water table is high and many areas on site may well be flooded. In my December Hints Tips supplement, I wrote about soils and that nutrients are leached from the soil. So, protection may be necessary in order to prevent this action taking place and wasting the nutrients and the enrichments you have added to your soil. Coverings can be green manure, plastic or cardboard…but never carpet. Another rule on this site.
Raised beds are an excellent method in reducing water leaching of nutrients. So, let's have a look at the advantages there are for raised beds.
The RHS says raised beds are a great way of growing a wide range of plants. They are good at boosting drainage and can also be used to introduce different types of soils, soils that can be matched to plants. So next month I will research Ph and let you know my findings. Raised beds can also increase soil temperature due to better drainage and are easily maintained because they are not as overwhelming as looking at the whole plot when the weeds are at their best. Targeting the introduction of soil enrichments is also made easier using the raised bed method.
The RHS web page highlights the fact that raised beds are also good for those that have restricted mobility.
The best time for building raised beds is in the winter time as long as the soil is not waterlogged.
However, as we know materials for these raised beds does not come cheap so if you want to include raised beds look out for recycled timber or cut willow but small scale projects might be accomplished using ready- made kits.
If you would like more information on raised beds then look no further then the RHS webpage RHS.Org.UK.
Please keep in touch by looking on the Associations Webpage/Facebook and Notice boards On-site for information about the Association.
Here's wishing you a good year for growing your Fruit and Veg.