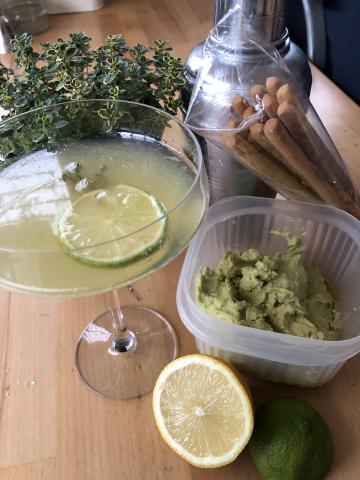 A delicious easy way to use broad beans (even the big tough ones you would usually reject!) 
What you will need:
Broad beans

Garlic

Extra Virgin Olive Oil

Lemon juice

Salt

Pepper

Chilli flakes (optional)
To-do:
Boil a pan of water and add approx. 500g of broad beans. Cook for about 10 minutes or until tender.  Remove from heat, drain and plunge into a pan of cold water.

Drain beans and then make a small slit in each bean to squeeze out the tender middle. Do this with all the beans and then discard the skins.

Place the tender middles into a blender.  Add 2 grated cloves of garlic, 5 tablespoons of olive oil, 2 tablespoons of lemon, and a good pinch of salt and pepper.  Now blend to a soft paste mix, if too stiff add more olive oil.

Taste. If required add additional chilli flakes to spice it up. Adapt to your own taste preferences.  Serve with pitta, toast or crudites.