Home Preserved Stem Ginger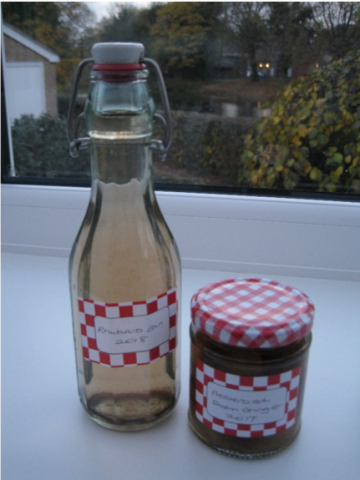 What you need:
450grms (ish) of fresh ginger

Cold water to cover

10oz white granulated sugar

More water!

2oz dark muscovado sugar
What to do:
Peel approx. 450gms stem ginger or scrape so that the ginger is 'clean' 

Chop into about ½ inch pieces

Place into small saucepan and cover with cold water and cook on a medium heat for about 20 minutes to soften

Drain the ginger pieces from the water

Now mix the granulated sugar to a new ½ pint water. Add the dark muscovado sugar and heat all ingredients over a medium heat and bring to the boil. Boil for about 5 minutes on a high heat until the liquid starts to thicken slightly. Add the previously cooked ginger into the syrup and cook together for a further 5 minutes

Remove from the heat and spoon the ginger into a warm sterilised jar and cover with the ginger syrup. Keep in a dark place and will be ready to use after 4 weeks but the longer it is kept, the deeper and stronger the flavour of the ginger!
Oh and by the way - the syrup is scrummy on the top of ginger cake or ice cream or over sticky toffee puddings!