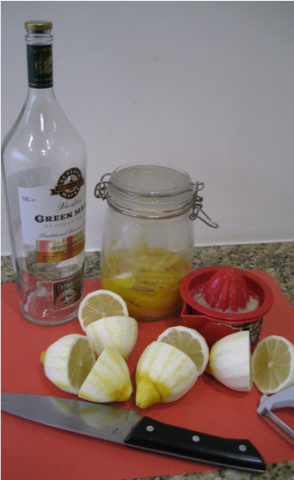 Easy Peasy Lemon Squeezy!
Note: Use the same size cup through out the recipe 
Wash 4 unwaxed lemons

Peel the zest from each of the lemons and pop it in to a large kilner jar (or similar airtight container)

Add 1½ cups pf vodka to the peel. Seal the jar and shake the contents frequently over the next two weeks

Chop the lemons in half and squeeze all the juice from each one. Pour the lemon juice in to a bottle or airproof container and place in the fridge to keep for 2 weeks whilst you shake the zest and vodka!
Two weeks later………..
In a medium sized saucepan, mix 2 cups of white granulated sugar with 2 cups of water

Heat slowly together on the cooker just long enough until the sugar has dissolved. Leave to cool

Remove the lemon juice from the fridge and strain to remove any residue/bits

Add the lemon juice to the sugar mix and stir 

Now strain the lemon zest from the vodka and throw away the zest 

Add the vodka liquid now to the sugar mix and stir together

Your limoncello is compete! Pour into small bottles and a perfect present is in your hands
Before serving, chill in the fridge and serve in small glasses (keeping back plenty for yourself)! Cheers!