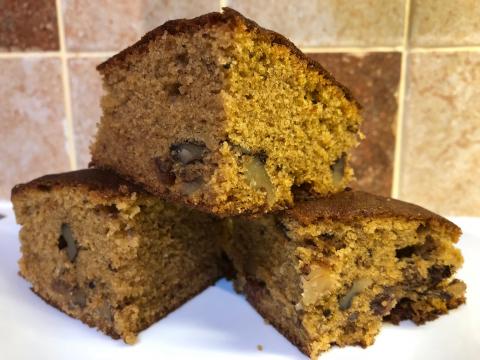 A delicious way to make use of a pumpkin. Easy to make. Lightly spiced and moist. Reminiscent of carrot cake.
Ingredients
220g Stork margarine

440g light brown sugar

300g plain flour

4 eggs, beaten

350g pureed pumpkin

100g walnuts pieces

50g sultanas

1 teaspoon bicarbonate of soda

1 teaspoon baking powder

2 teaspoons ground cinnamon

½ teaspoon ground ginger

1 teaspoon ground nutmeg

2 teaspoon vanilla extract 
Preparation
Preheat oven to 180°C or gas mark 4. Grease and line a baking tin 30cm x 20cm x 5cm.

In a large bowl mix together the margarine and sugar until light and fluffy, then add the pumpkin puree and vanilla extract. 

In a separate bowl sift the flour, bicarbonate of soda, baking powder, cinnamon, ginger and nutmeg. Mix together.

Alternating between the eggs and dry ingredients slowly combine with the pumpkin mix until smooth.

Finally add the walnut pieces and sultanas. Stir until evenly distributed.

Pour the cake mix into the tin and place in the oven for 40-45 minutes.

When cooled the cake may be finished with a cream cheese frosting, dependent upon taste.